CALI-R CHRISTMAS SHOW FULL TO BURSTING AS SOUL SHINES THROUGH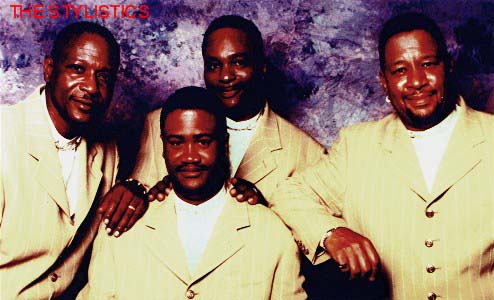 By Dennis O'Donoghue

Sold out- and souled out. The "house full " signs went up on the Stylistics" visit to Dunstable Leisure Centre a week before Saturdays Cali-R Christmas show, and as a result the town had the unusual spectacle of ticket touts in operation!
Many who had missed out in the scramble for tickets turned up on the night anyway, and who had bought early decided to cash in on their luck by selling to them for a profit.
Presumably they went home happy, but not as happy as the 800 people who crammed into the venue for a night of velvet soul, featuring exceptional vocalist- Harold' Eban' Brown, who three years ago at the age of 28, was charged with replacing the irreplaceable Russell Thompkins Jr, the falsetto voice of the Stylistics for four decades. Well, could you tell the difference?
Probably not. If anything the high tenor, almost castrato, voice of former Moments, Delfonics and Manhattans lead singer was clearer and purer than that of Thompkins, but technicalities apart, the noisy enthusiastic audience were more concerned with hearing the hits.
And those they got by the shed load. From Rock `Roll Baby kick off to the finale I Cant give you anything ( But My Love), the show was packed with top ten favourites including Stone In Love With You, You` re A Big Girl Now, Betcha By Golly Wow( during which Brown hit a high note which threatened to punch a hole in the roof) You Are Everything, You`ll Never Go To Heaven, Break Up To Make Up, Sing Baby Sing, Star Of A Tv Show and You Make Me Feel Brand New.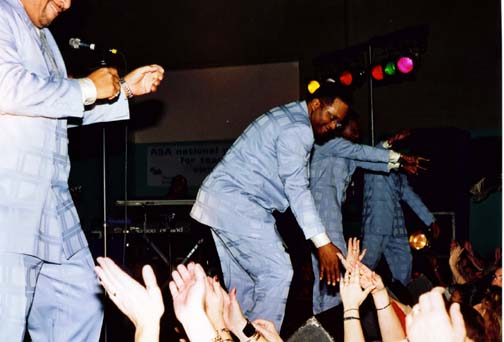 The audience excitement slackened only momentarily from hits to their-less familiar album songs, but their professionalism and delivery throughout, allied to understated support from the six-piece band, was of the highest order. In fact, it was more like hearing the records than a show and you cant say fairer than that.
Afterwards all ten musicians were unanimous in wanting to return next year, which was good news because Cali-R promoter Sid Hudson is equally keen to book them.
Founder member Airrion Lovesaid "This was only one of four sell out shows of the 30 date tour and we had a ball. The audience was really warm and reactive. We would definitely love to return next year if you"ll have us"
Looking back, he admitted that after so many concerts in so many places over 35 years, he had no recollection of appearing at the California Ballroom in the seventies.

"But i heard that not long after we appeared there it burned down or they built on it, or something like that. Hope it was nothing to do with us!"