Gwen Dickey`s ROSE ROYCE
8th December 2001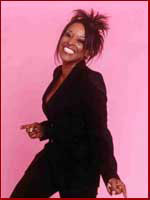 Gwen Dickey, the voice of Rose Royce, brought the band with her to star in our christmas special in 2001.
Car Wash was the sound which symbolised the 70s scene and started a string of hits for the biggest disco act of all time.Is It love That Your After, Wishing On A Star, Do It Do It, Love Don't Live Here Any More.
What a fantastic performer Gwen Dickey is and we have already have had lots of requests for her return.

The Stylistics
6th December 2003

Disco Night
4th October 2003

The Real Thing
10th May 2003

The New Drifters
1st March 2003

Heatwave
5th October 2002

Clem Curtis & The Foundations
2nd March 2002

Odyssey
20th October 2001

Abba Like
12th May 2001

Jimmy James & The Vagabonds
31st March 2001

Christmas Cracker Party
25thNovember 2000

George McCrae
7th October 2000