Disco - 4th October 2003
Sue and Doug Fountain celebrated their 25th wedding anniversary at the Cal-r October 4th. The couple met at the Old Ballroom 28years ago. They have not missed one Cali-r and they think the nights are fantastic. Sue can be seen on good old days page.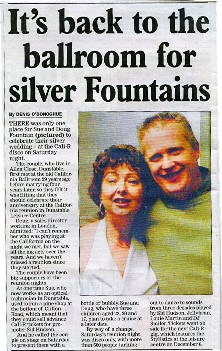 If you have any story about the old Cali or with a link to the Cali-r, something that happened at both or an old friendship which has been renewed, anything which will make a good story, we have a pair of tickets for The Stylistics to give to the winner.
email me your story, name and address...

The Stylistics
6th December 2003

The Real Thing
10th May 2003

The New Drifters
1st March 2003

Heatwave
5th October 2002

Clem Curtis & The Foundations
2nd March 2002

Gwen Dickey's Rose Royce
8th December 2001

Odyssey
20th October 2001

Abba Like
12th May 2001

Jimmy James & The Vagabonds
31st March 2001

Christmas Cracker Party
25thNovember 2000

George McCrae
7th October 2000