Jimmy James & The Vagabonds - 9th October 2004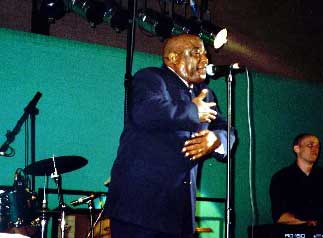 "The Fatman of Soul" delighting the Cali-r audience
Jimmy James extended performance proved he has lost none of his magic. We remember Jimmy as one of the British Soul pioneers. He is a truly magical performer, as all of you who were there experienced.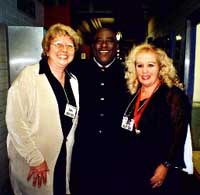 Jimmy James with Jacqui and Sally from the Cali-r team
After 90 minutes of nonstop hits the highlight was the way his deliverance of his 1968 hit Red Red Wine.The Soul oozed out of the veteran performer.
ROSKO Backstage with one of his loyal followers
Emperor Rosko showed he loves revisit his old roots which he put down here in the 70s. Rosko entertained the crowd with lots of give aways and wacky behavior. He now broadcasts by satellite from his home in Southern California to listeners all around the globe.Come back soon EMP.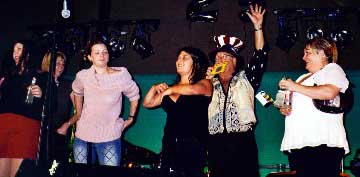 Rosko keeping the party moving for the ladies

The Stylistics
6th December 2003

Disco Night
4th October 2003

The Real Thing
10th May 2003

The New Drifters
1st March 2003

Heatwave
5th October 2002

Clem Curtis & The Foundations
2nd March 2002

Gwen Dickey's Rose Royce
8th December 2001

Odyssey
20th October 2001

Abba Like
12th May 2001

Christmas Cracker Party
25thNovember 2000

George McCrae
7th October 2000