It's Gwen Dickey -- aka Rose Royce -- who headlined the first Cali-R event at unstable's new Grove Theatre on Saturday night and provided a triumph almost equal to the Premiership-winning achievement of the team that the woman from Biloxi, Mississippi, has adopted as her own since moving to this country. It was a truly memorable night, attracting a full house, with visitors from places as varied as Oxford, Northampton and even France: first Cali-R show of the year, new home and an entertainer at the top of her game.
More about the entertainer in a moment, but first the Grove -- what a fabulous asset it is for the town. Let's have no more misty-eyed talk about the late Queensway Hall: much loved and lamented "the Civic" was and is but the Grove is NOW and a place to make Dunstable proud.
True, there were some complaints that the dance floor was too small, but this didn't seem to bother the majority of people who stood shoulder to shoulder singing along with Ms Dickey's hits, and then danced their feet off into the early hours to promoter Sid Hudson's sounds.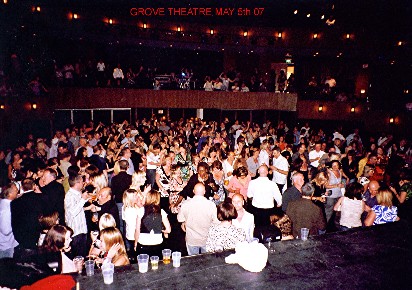 But it was a fantastic experience, too, to watch the show from the "gods" where my metaphorical hat was tipped to those brave souls grooving away high above the auditorium.
And didn't they have reason to groove! Gwen Dickey is a fabulous performer, who looks stunning and whose voice just gets better with age. Backed by two keyboards, guitar, bass and drums, she poured out the hits, and from the first notes of Is It Love You're After to the last chord of the reprised Car Wash encore, she took the audience with
her.
They wanted the hits and they got them -- Ooh Baby, Wishing On A Star, Love Don't Live Here Anymore, First Come First Served and flicks of I Wanna Get Next To You and Do Your Dance, plus Ain't Nobody, the Chaka Khan song she took into the charts with KWS; songs that she must have sung a million times, but can still perform with soul and passion.
From the stage she said: "I just want to give a big thank you to Sid and Jacqui Hudson] and to the audience for the love you've shown and to everybody at the Grove Theatre for having us." Let's hope it's not too long before she returns!
Afterwards Sid Hudson said: "It's been a fantastic, exhausting night.Gwen was the perfect act to start the new Cali-R era at the Grove. We had some great times at the Leisure Centre but it's good to be back at a state of the art venue. We had a couple of teething problems, but I think the audience reaction said it all tonight."
Meanwhile, one of the function rooms in the upper floor was doing big business as a funk room, with Louie Martin and Jellybean providing the sounds. Suffice to say, it, too, was packed, but with one big advantage over the leisure centre version -- it was air-conditioned!
Of all the artists who have played Cali-R dates, Gwen Dickey is probably the most approachable. After she and the band dined at Il Millefiore in Church Street, she sat in the green room before the show and chatted happily with the Cali-R backroom team, admitting to being a Manchester United fan since she sang at half-time in the Charity
Shield against Liverpool a few seasons ago. "We're gonna be lifting that Premiership trophy tomorrow," she gleefully and correctly forecast.
After months touring England and the Continent, the Dunstable date was to be her last before she flew back to America for a holiday with her mother. She also admitted that for the first time in her career, nerves had "got to her". She said: "I don't know what happened but this morning I found myself having a panic attack. It was like 'I can't do this. Oh my God I've got a show tonight and I can't do it!'.
But I calmed down and now it'll be like it always is -- I'll get nervous just beforehand but once I sing my first song I'll be fine." So did "having two names" bother her? "No, it's never been a problem.
When Rose Royce was formed by our producer Norman Whitfield [his first project after his work with the Temptations], he insisted that I should be Rose. Even now people still say 'Oh Rose, can I have your autograph?'! But it never held back my career that maybe some people didn't realise that Rose Royce was really Gwen Dickey."
And to round off a busy evening Gwen met one of her greatest fans, John Currie, 66, from Grove Road, Houghton Regis. John and his wife, Ivy, loved all the Rose Royce records, but, sadly, Ivy died in December after suffering from motor neurone disease. Accompanied by his daughter, Wendy, John came along to the show and was thrilled to have photos taken with Gwen backstage. Said John: "We loved her records, and when I heard one particular one tonight I got choked up."
Wendy, who is press officer for the local motor neurone disease (MND) society, thanked the Grove management for providing tickets for Joseph and the Amazing Technicolor Dreamcoat as raffle prizes for the society.