Geno Washington - Saturday 7th June 2008
by Denis O`Donoghue (Dunstable Gazette)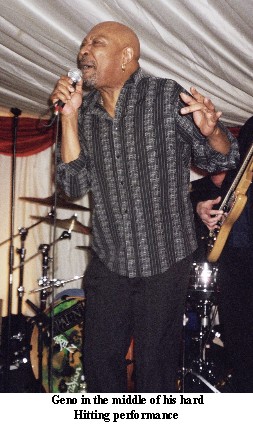 If ever Geno Washington needs a title for a new live album, he could do worse than cannibalise his seminal LP, Hand Clappin' Foot Stompin' Funky-Butt …Live!, and call it Sweat Pourin' Thigh Slappin' Still Got It ... Dance!

The youngest 64-year-old in the business and the Ram Jam Band blew into town for Sid Hudson's latest Cali-R promotion and blew everybody away.

Geno -- funny how nobody ever calls him Washington -- is one of the few 60s R&B icons left standing and if Saturday's show under canvas at Dunstablians Rugby Club is anything to go by, he's got years of sweat-drenched soul and funk left in him.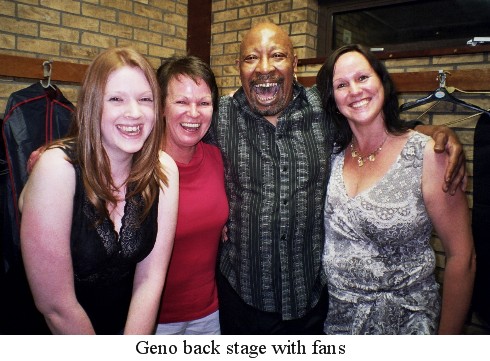 Just as he was 40-odd years ago when he first came to the California Ballroom, Geno is high performance and high octane. It also helps that he is a consummate showman: genial, funny, busier than a one-legged tap dancer and crazier than a fish with legs -- nobody sleeps when Geno's on. "I'll slow it down later," he said, "so y'all can grab some ass" -- but he never did, and nobody cared.

It took all of two minutes before he had an enthusiastic crowd dancing, and with the connivance of the Ram Jam Band he kept them at it for the best part of an hour and three quarters. The Ram Jams were simply marvelous -- tighter than Solomon Burke in a Smart car -- with a guitar, bass, drums and two sax line-up.
The appearance of original member Bud Beadle on baritone sax was a pleasant surprise, and somebody really should bottle John Matthews' bass playing and distribute it free to schools.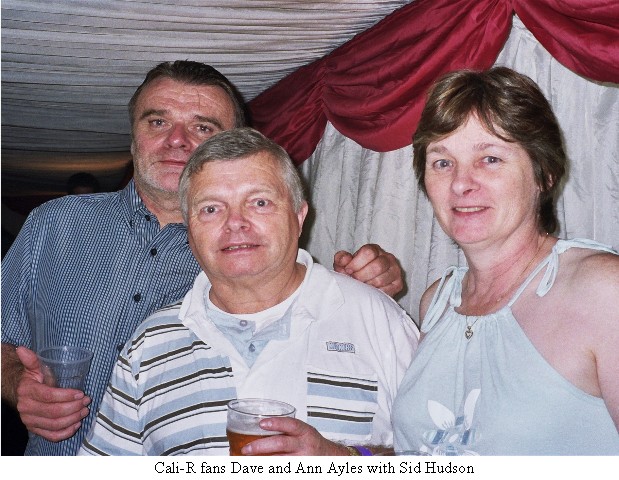 So what did they play? Can't remember, but it doesn't matter, although I do recall some Wilson Pickett, Eddie Floyd and James Brown. Geno has never been just about the songs, more about using them to generate excitement and the funk-factor.
He still uses the old classics but now makes plenty of concessions to a more up-to-date style while performing them. As he told me before going on: "We don't like to get stuck in the Sixties, we DO like to celebrate them."

But he doesn't wander too far from his roots. He told the crowd: "I LOVED the California -- 'course, I'm far too young to remember it!" Certainly, there were a lot in the audience who WERE too young to remember the Geno-era Cali but plenty more for whom it was as if time had reversed.

Promoter Sid Hudson agreed: "It was just like the old days. It was nice to see a lot of the old faces, and Geno was absolutely outstanding. His charisma and the way he interacted with the crowd were out of this world."

And there was the added bonus of a warm-up performance from Moni Tivoney, who reprised his appearances, on the BBC One "search for" series The One and Only, as Lionel Richie. Add in the Jellybean and Brother Louie Martin funk room and that's a lot of bang for your bucks!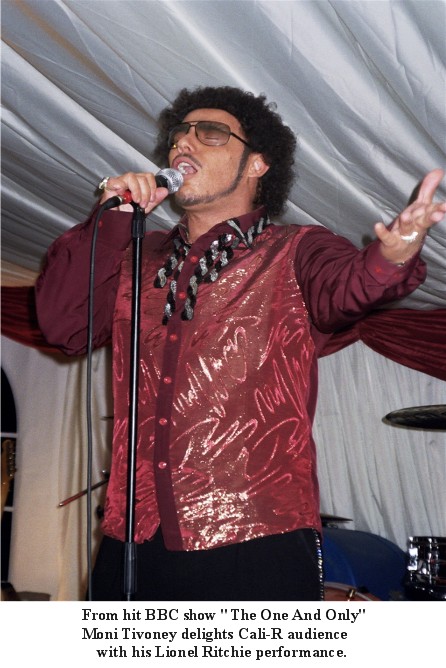 Sid Hudson's third event in the Dunstablians' marquee is the Summer Soul disco on Saturday, July 12. Tickets, at £9.00, are already going fast and can been bought through the rugby club, Bidwell Park, Houghton Regis (01582 862892); Clowns, High Street North, Dunstable (699402); Balfour, Hillborough Crescent, Houghton (863403); and, for the Luton area, Chris (723277). They can also be booked via the Cali-R web site at www.cali-r.com
VETERAN California Ballroom-goers Eddie and Rosemary Macrae made a sentimental trip to the Cali-R reunion on Saturday -- from their home in Canada.
Eddie, 65, and Rosemary, 63, met at the Cali in 1960 and were married two years later before emigrating in 1966. Said a still-confident Eddie: "Rosemary wouldn't dance with anybody but I said she would with me! Now we've got three kids and four grandchildren so I've come back to complain!"

He added: "The California was a ritual on Friday nights. I didn't know what we could expect after so many years but this is fantastic."
The young Eddie lived in Luton and worked for Denny Cleaners in Park Street and Vauxhall, as well as helping to build the M1 with John Laing Ltd. Rosemary came from Dagnall.

The couple try to get over from their home in Brampton, near Toronto, every three or four years. They are staying with Rosemary's sister, Sheila Phillips, in Loring Road, Dunstable. Said Eddie: "We never got to go back to the California, so when Sheila told us this event was on, we just said get us some tickets!"

Another long-distance visitor was Paul Harris, over from Australia. Paul, a friend of "DJ Duncan" Bedford and his brother Roland, is home visiting family.