The Cali-R Christmas Special
with RDG & George Anthony
4th December 2010
by Denis O`Donoghue

RDG in DA House
It was triumph from near-disaster at the Cali-R Christmas Special in Dunstable Leisure Centre on Saturday, 4th December 2010, when local trio RDG created a night of celebration for an enthusiastic audience.
The cancellation of their trip by Tavares because of "Pooch" Tavares' illness threw promoter Sid Hudson's plans for the night into total disarray, but he came up trumps by recruiting as late substitutes RDG as headliners and Lutonian soul singer George Anthony as support. Both bring large followings whenever they perform, and although, inevitably, the night wasn't the expected Tavares sell-out, the Cali-R faithful still turned out in their hundreds to kick off the festive season with a bang.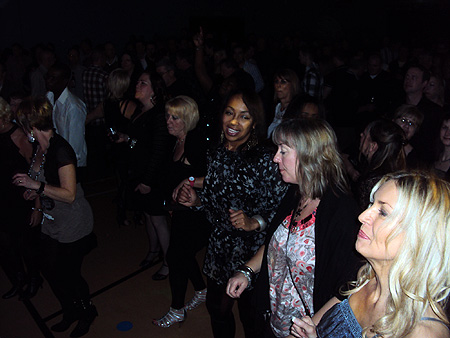 Party Girls
Sid said: "I knew RDG and George wouldn't let us down and I was right. RDG headlined in the marquee season at Dunstablians Rugby Club a while back and I knew they would be popular. It's a tribute to their popularity that not many people wanted refunds when they found out that they would be on. It was a shame to lose Tavares but I think that in the end we still had a fantastic night. And we still plan to have Tavares here in the summer."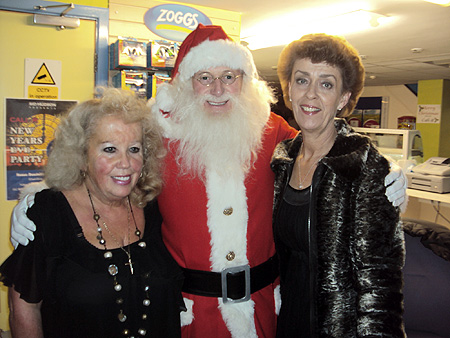 Santa bags Jacqui & Alison from the Cali-R team
And indeed RDG certainly proved that they weren't there to make up the numbers. Richie, Dennis and George poured out the soul, funk and reggae for a solid hour and it was great to see fantastic numbers being performed superbly with big, happy grins on the trio's faces: they enjoy playing and the audience love listening and dancing to them.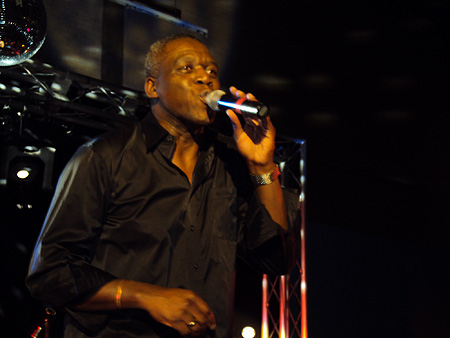 George Anthony oozing out the Christmas soul
For openers, George Anthony took time off from stage work in London to come home and set the benchmark for the evening with a classy soul act that reminded everybody just why he won Stars In Their Eyes as his "alter ego" Al Green.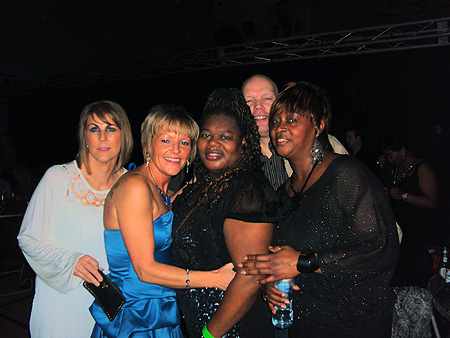 Dunstable Groovers keeping the party moving
With Sid manning the decks, Jellybean and Brother Louie Martin providing the funk in the upstairs room and former World Champion Santa Ron Horniblew, from Luton, dishing out the sweets, the festive season opened with a bang and left everybody looking for the New Year's Eve Cali-R Special.