Richard Street / Temptations
11th June 2010
by Denis O`Donoghue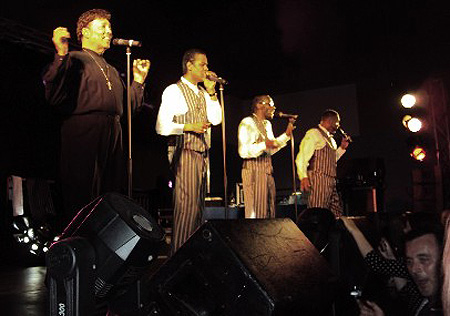 Richard Street and his Temptations serenading the Cali-R crowd
Street's ahead - well, Richard Street certainly was as he led the Temptations to a triumphant night at Sid Hudson's latest Cali-R night on Friday 11th June.
A full house of 900 blew the roof off Dunstable Leisure Centre as the Temps mined their extensive back catalogue to produce a solid hour of hits and favourites.
Right from the start, the crowd were in singalong mood and the Temptations were savvy enough to indulge them for a while, but then the professionals took over and the show really began.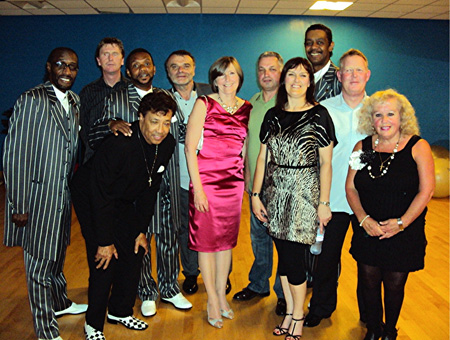 Cali-R fans and soul specialists Pete &Sue Pratt, John &Denise Bigwood, Roland Bedford step into the picture with Temps and Sid& Jacqui Hudson
And what a show it was. Three-time Emmy Award winner Street, despite suffering from a knee injury and patently distressed with his sound crew over microphone glitches, quickly settled to the job and showed all the vocal prowess that comes with a 50-year connection to the Temptations -- a connection that was marked on record by hit performances on Superstar, Papa Was A Rollin' Stone and Masterpiece.
But this was no one-man show. Bass Clayton Hooker, tenor Lawrence Jones and falsetto Larry Johnson are all key members of the line-up, and, wearing a nifty line in chalk-stripe zoot suits, produced the harmonies and choreography for which the Temptations are renowned.
The Way You Do The Things You Do, Get Ready ... the hits just kept on coming. But all too soon time was up. It seemed like five minutes -- or was It Just My Imagination!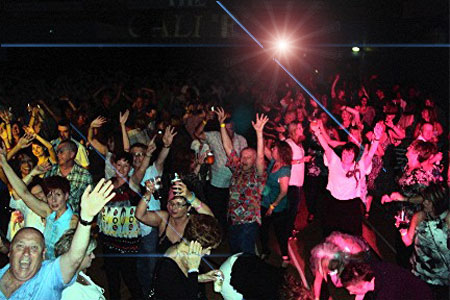 Sweet Summer Soul Grooving
A fantastic atmosphere and a special performance, but even more so for primary school teaching assistant Sukey Taylor, who chose the Cali-R event for her hen night. Sukey, 44, of Old Bedford Road, Luton, and her friends Lisa, Michelle, Marjah, Penny and Fiona, met the Temptations afterwards for photos and autographs.
Sukey, who is "madly, deeply, insanely in love" and her partner of 17 years, Derrick Brown, are getting married at the Word of Faith Church, Alma Street, Luton, on July 24.
After the show, promoter Sid Hudson was full of enthusiasm for the Temptations. "True superstars," he said. "And what an atmosphere! Everybody seemed to love 'em -- and who can blame them. It was a great performance and a fantastic night."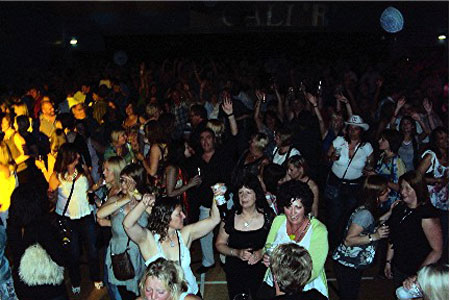 Maureen in (Lime Green) chats to her sister Brenda reliving the old days of the California Ballroom
Certainly, at a time when the Long Live Dunstable/Don't Let Dunstable Die campaign is generating such interest, it was wonderful to see so many people out in the town having such a great time. There can be few, if any, events in the town that can attract 900 enthusiastic customers. Cali-R isn't JUST a celebration of the music of the old California Ballroom -- it's also about providing a focal point for Dunstablians to have a whale of a time a couple of times a year.
And on Friday it was a killer whale of a time.
Sid's one regret on the night was that the bar had provided some technical problems that caused a lot queueing. "There were some faults with the beer pumps that the centre's staff will have sorted out by next time. They're also looking at having another bar upstairs and a bottle bar in the hall to ease the congestion. It'll all be OK by the time Tavares appear in December."